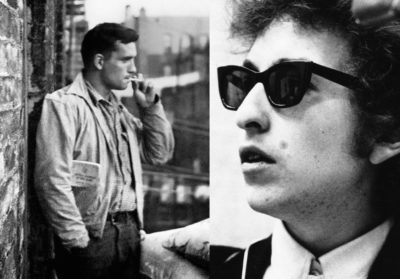 To celebrate Bob Dylan's birthday, a very special event, "The Dylan-Kerouac Connection," will be held in Berkeley, CA on Friday, May 18, 2018.
Former Rolling Stone Senior Writer/ West Coast Music Editor Michael Goldberg and acclaimed Bay Area singer/guitarist Johnny Harper will be collaborating on a night of words about and music by Bob Dylan.
Goldberg will read from his new essay, "Bob Dylan's Beat Visions (Sonic Poetry)," which has just been published in the book "Kerouac On Record" (Bloomsbury). Harper will perform exciting solo versions of "Desolation Row," "Just Like Tom Thumb's Blues," Mr. Tambourine Man," "A Hard Rain's a-Gonna Fall," "Like a Rolling Stone" and more!
The two set evening will begin at 7:30 pm at The Art House Gallery & Cultural Center, 2905 Shattuck Avenue, Berkeley, CA. Doors open at 6:30 pm.
Goldberg's essay focuses on how Jack Kerouac and other Beat writers had a profound influence on the songwriting of Bob Dylan. In reviewing "Kerouac On Record," Mojo magazine wrote: "Among the strongest in a strong lot are Michael Goldberg's examination of Dylan's lit roots and Kerouac's own musicological piece — 'The Beginning Of Bop' – that attempts to capture jazz in words – and succeeds."
Johnny Harper is a well-known Bay Area singer, lead guitarist, songwriter, bandleader, arranger, and producer of recordings and concerts.
Harper has been known, for many years, for leading rockin' bands (Johnny Harper & Carnival and the earlier Hot Links) specializing in the joyous, upbeat, and funky New Orleans R&B sound – the music of artists like Allen Toussaint, Dr. John, the Meters/ Neville Brothers, Professor Longhair, Fats Domino, and many more. He lived in New Orleans for several years at one point, soaking up the Crescent City's magic first-hand.
In addition to his work in bands, Johnny is a powerful solo performer, accompanying himself in complex lead/rhythm and finger-picking styles on electric and acoustic guitars. He is a veteran performer in a wider range of American roots music styles – blues and gospel, vintage rock and classic country, R&B/ soul, traditional and contemporary folk, and more. He is an expert on the music of The Band, and knows over 100 Bob Dylan songs! And he is a born storyteller whose comments on the music are by turns moving and highly entertaining.
The show will take place at: The Art House Gallery & Cultural Center, 2905 Shattuck Avenue, Berkeley, CA. Suggested donation: $15.00 – $25.00
For additional info, please contact Johnny Harper: jjmusic@ix.netcom.com
– A Days of the Crazy-Wild post –