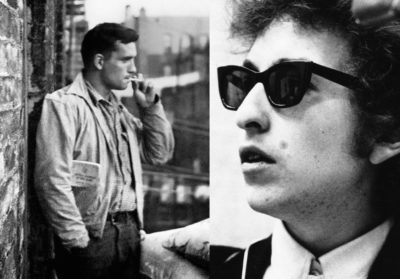 "The Dylan-Kerouac Connection" will be performed one more time on Friday, Nov. 9 at 7 pm at The Beat Museum, 540 Broadway in San Francisco.
Former Rolling Stone Senior Writer Michael Goldberg (that's me) will read from his acclaimed essay, "Bob Dylan's Beat Visions" and singer/guitarist Johnny Harper will perform Dylan songs referenced in the essay.
When Johnny and I did this in Berkeley earlier this year and charged admission we had a sold out enthusiastic audience at the Art House. This time the event is free.
From the Beat Museum writeup for this event:
"Veteran music journalist Michael Goldberg is a former writer and editor for Rolling Stone, and has written for numerous other publications. His brilliant essay, "Bob Dylan's Beat Visions," appears as a chapter in the new book "Kerouac on Record" (Bloomsbury Press), which explores Jack Kerouac's relationship to music — the music he was inspired by, and the many famous musicians who were inspired by his writing. Michael's chapter explores in detail the influence of Kerouac and other Beat writers (Ginsberg, Ferlinghetti, more) on Bob Dylan's world-changing songs of the 1960s. Michael has written on Dylan for many years, and his chapter draws not only on a lifetime of study, but also on important new interviews with major figures including Ferlinghetti, D.A. Pennebaker, and John Cohen, who knew both Bob and Jack personally. The connections he makes between Bob's songs and the specific Beat writings that inspired them are surprising and exciting.
"Singer-guitarist Johnny Harper is a celebrated Bay Area musician who has performed and recorded with Barbara Dane, Maria Muldaur, Charlie Musselwhite, Katie Webster, Queen Ida, Tony Marcus, Ernie K-Doe, and other well-known performers. He is also a band leader, record producer, and an exciting solo performer. In this special event he performs live versions of the classic Dylan songs Michael discusses in his essay — "Mr. Tambourine Man," "Desolation Row," "Like a Rolling Stone," "It's Alright Ma," lots more! — and gives them new life with his powerful interpretive singing and his dazzling work on acoustic and electric guitars. Hearing the combination of Michael's spoken insights with Johnny's compelling performances makes for an exhilarating and thoroughly delightful evening."
— A Days of the Crazy-Wild blog post —