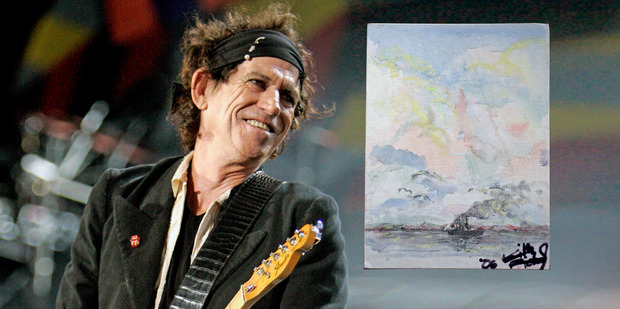 A painting made by Rolling Stones guitarist Keith Richards has surfaced in New Zealand, according to a report in The New Zealand Herald.
Richards painted it at a bed and breakfast while recuperating from an injury sustained in 2006 after falling out of a tree in Fiji. The paper says experts believe the painting to be worth several hundred thousand dollars.
He gave the painting to Gloria Poupard-Walbridge, owner of Cotter House, as a gift when he was leaving.
The painting — watercolor and pastels — has been in a drawer beneath some linen for the past seven years. Richards signed the painting with a thick black marker, and Poupard-Walbridge says that ruined it.
"It was a pretty good picture until he signed it with a felt pen and stuffed it up," she told The New Zealand Herald.
News of the painting came to light after the Stones announced they would play a show at Auckland's Mt Smart Stadium on Saturday April 5, 2014.
The New Zealand Herald describes the painting like this: "Painted over several days on a $3.95 canvas and a small table easel, the delicate pastel and watercolour depicts a water scene at sunset, with a steamship at full throttle. Seagulls soar above the ship, the smoke effect created by careful artistic smudging."
No skull and crossbones, Keith?
-– A Days of the Crazy-Wild blog post: sounds, visuals and/or news –-