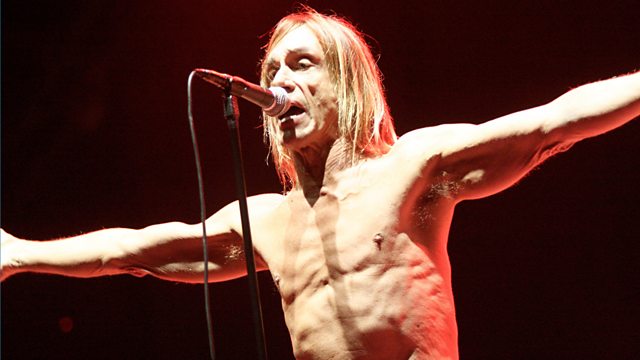 On Christmas day Iggy Pop will DJ on the BBC's Radio 6 from one until three pm — be sure to take into consideration the time zone you're in and the time zone London is in.
Listen here.
From the BBC website:
BBC Radio 6 Music will be truly rocking around the Christmas tree this year with 'godfather of punk' Iggy Pop presenting two programmes, a very special interview with Metallica's Lars Ulrich, plus Mick Jones and Paul Simonon of legendary band The Clash presenting their own show.
Iggy Pop turns radio DJ to present two special programmes – the first on Christmas Day (1-3pm), the second on New Year's Day (1-3pm). Iggy's musical legacy has inspired and energised rock and roll's alternative spirit since the late Sixties and his bare chested stage antics have marked him as a truly iconic frontman.
Iggy Pop's Radio Show will offer 6 Music listeners an exclusive insight into the mind of one of the most influential rock stars of the last 40 years. In the first show he'll explore the theme of Rockin' Rebels, and Heartbreak and Heartaches in the second.
Iggy Pop said: "To come up with the tunes that fit the concept of each show, I've had to dig back to things that I haven't heard in a long, long time, but that still carry memories of joy and compulsion. I thought I better check these old numbers to see if they still made the grade for me. They still do."
He continues: "I was a little worried that the listening might feel ragged for the kind of people who can't embrace Duane Eddy and, say, The Last Poets in the same hour with Doc Watson. Well, that's too damn bad. I've listened to all this music for the shows and it all flows for me. I hope to reach out and touch you."
In The First Time With Lars Ulrich (Christmas Day, 3-4pm), presenter Matt Everitt asks Metallica's drummer about his musical firsts. Metallica are without doubt one of the biggest heavy rock bands in the world, with a staggering 100 million albums sold. Here, in a rare and characteristically articulate interview, he discusses his childhood in his native Denmark, the early days of Metallica through to the arena gigs, his music passions from Ennio Morricone to the Arctic Monkeys, and his friendship with Noel Gallagher.
They roused a generation with their rebel rock, and this Christmas Mick Jones and Paul Simonon of The Clash present a two-hour special for 6 Music. This Is Radio Clash will air on Boxing Day (1-3pm). The Clash formed in the vanguard of British punk and went on to become a symbol of intelligent protest and stylish rebellion in the turbulent years of the late Seventies and early Eighties. They were unflinching musical pioneers, integrating first militant reggae, then dub, funk, jazz and hip-hop into their sound, leaving behind an extraordinary recorded legacy. Jones and Simonon will be sharing their experiences of that time, lifting the lid on the stories behind the music.
Paul Rodgers, Head of Programmes for 6 Music, said: "Iggy Pop, Paul Simonon, Mick Jones and Lars Ulrich are fascinating characters and have recorded some great shows, with a wide range of eclectic and exciting music choices which could only be heard on a station like Radio 6 Music, and we hope they will delight our listeners over the festive period."
In case you missed it, Iggy's Christmas greeting:
And one of my fave Iggy tracks, "I'm Bored":
-– A Days of the Crazy-Wild blog post: sounds, visuals and/or news –-