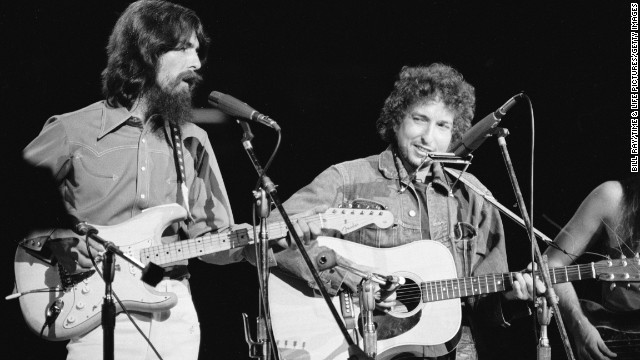 Yesterday, following Phil Everly's death, Harold Lepidus (at examiner.com) did a great post about songs by Bob Dylan that the Everly Brothers covered, and songs by the Everlys that Dylan covered.
Unfortunately, he only included audio of one of those songs.
So today I tracked down all of the audio and you can check it out below.
There's a very cool, very loose version of "All I Can Do Is Dream" that Dylan sang while jamming with George Harrison in 1970, and a version of "Let It Be Me" off a B-side of the European "Heart Of Mine" single released in 1981).
Enjoy.
"The Everly Brothers, "Lay Lady Lay" off EB 84 (1984):
The Everly Brothers, "Abandoned Love" off Born Yesterday (1985):
Bob Dylan jamming with George Harrison (May 1, 1970), "All I Have To Do Is Dream":
Bob Dylan, "Let It Be Me," B side of "Heart Of Mine" European single (1981):
Bob Dylan and The Band, "All You Have To Do Is Dream" (a Basement Tapes reording possibly inspired by the Everly's "All I Have To Do Is Dream":
Plus in case you missed by Phil Everly obit yesterday, here are the Everly songs Bob Dylan included on Self Portrait:
Bob Dylan, "Let It Be Me":
Bob Dylan, "Take A Message To Mary":
-– A Days of the Crazy-Wild blog post: sounds, visuals and/or news –-