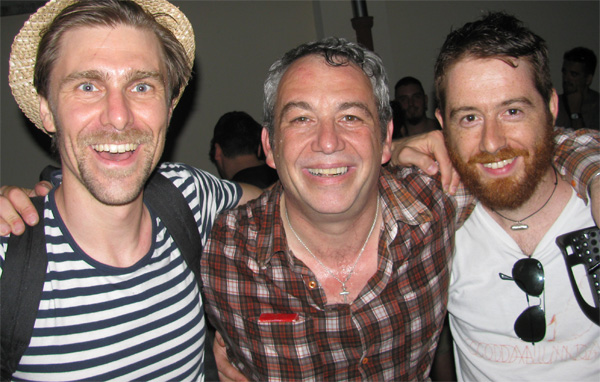 Mike Watt is a busy man. When he's not playing bass for Iggy Pop in The Stooges he plays in a variety of combos including Hellride, Mike Watt and his Secondmen, dos and others. On December 31 he'll perform with Thurston Moore and the artist Raymond Pettibon at The Stone in New York.
Before that Watt heads to England to play at All Tomorrow's Parties on December 1 with his trio, Il Sogno Del Marinaio, and then the group heads to Bologna, Italy to record their second album, the followup to La Busta Gialla, which was released at the beginning of 2013.
In addition to Watt on bass, the group includes drummer Andrea Belfi and guitarist Stefano Pilia.
Il Sogno Del Marinaio first toured Italy in 2009, and recorded La Busta Gialla during that tour.
Watt wrote about it on his Hoot page:
this album was part of the whole experience that brought all three of us (stefano, andrea and myself) together. I was invited to join them in playing six gigs in italy during the late fall of 2009. it was an invite out of the blue and truly exciting. of course we needed material to do for these shows and I thought if we were going to come together to do that then why not also record the stuff for an album? made sense to me and I'm so glad stefano and andrea were also into it. each of us brought tunes and we worked them out first w/prac in a real old pad in a little town near bologna called palesio and then at the gigs themselves before going into a studio called la sauna in the northern italian town of varano borghi where the cats there were absolutely righteous. it was one of my favorite times recording ever, such a good time.

the album for me represents us coming from different places and joining together to make a sound singular to the dynamic between us. we had no prior experience playing w/each other at all before the prac and the gigs so it's an accurate document of us three interacting for the first time through music and I think we did it in such a way that all three of our individual personas come through and at the same time make for ourselves an identity of a band. this was our goal we agreed at the end even though we never discussed it beforehand in words cuz I think we wanted the process to develop naturally and not foul it w/too much premeditation and expectations on where it "should" go… we in a sense "played the hand that was dealt" and gave it our best shot. the process was most interesting, the musical minds of stefano and andrea as well as their spirits as brothers very much inspired me! I am most big time grateful to them.
Here's a taste of the trio off La Busta Gialla: